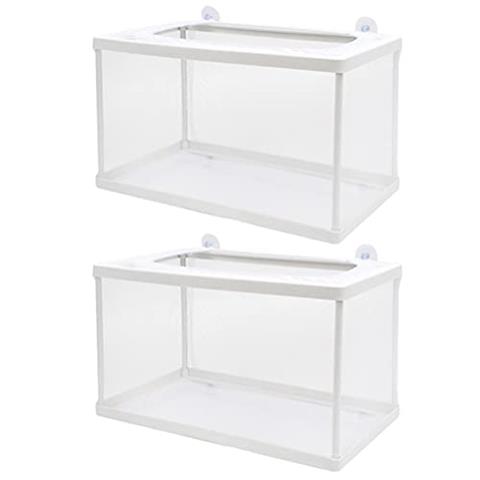 2 Pack Fish Breeding Box, Large Size Fish Tank Breeder Net, Aquarium Separation Net Nylon Incubator Mesh, Fry Hatchery Incubator Mesh with 4 Suction Cup for Newborn Small Fish, 10"x 6"x 6"
Brand:

"N/A"

Details:

🐟【Breeder Box and Hatcheries for Fish】-- You own a personal aquarium and you want to breed your fish for the first time? our Fish breeder net will increase the survival rate of breeded fish by separating the aggressive fish and weak fish.
🐟【Large Size & Material 】-- 10" x 6" x 6"/ 25.6 x 15 x 15 cm. the aquarium breeding box is made of soft polyester net and plastic frame, safe and secure tank for breeding, isolating or acclimating fish. You can clearly observe inside condition.
🐟【Easy to Install 】-- Comes with 4 suction cup for each fry hatchery incubator mesh, easy to install (Check photo 3, you will see how to install), This fish hatchery nylon net is easily attached to the top of your aquarium.
🐟【Must-have for Pregnant Fishes】-- This fish net can efficiently help you in breeding fish, especialy comes with 2pcs fish hatchery breeder box separation net can meet your needs.
🐟【Works as a Hatchery too】-- Aquarium Hatchery Incubator can reduce danger, that will prevent your fish from attacking the newborn fry in the breeding box. It is ideal to use for isolating diseased and weakened fishes. It also can protect sick fishes, small fishes or shrimps from aggressive large fishes.
:
This item ships worldwide.
Please allow up to 7 days for items to ship from our facility.
Electronic appliances may require a converter to work in your country.