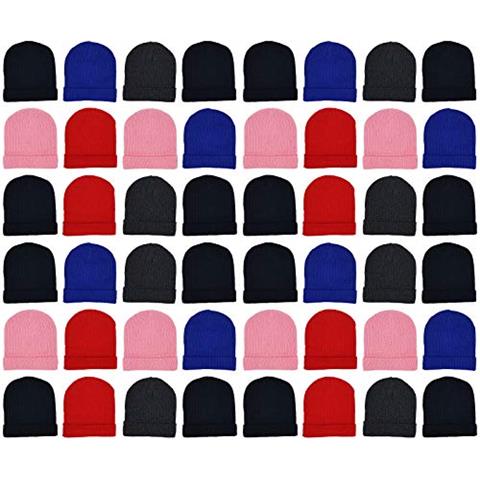 48 Pack Kids Winter Beanies, Warm Cold Weather Hats for Boys Girls Children, School Outdoors, Bulk
Details:

BULK PACK CHILDRENS / KIDS WINTER HATS: We understand the importance of maintaining warmth for the head. Providing the much needed warmth in union with comfort. Protect your head from harsh weather conditions to prevent colds and to stay healthy. Keep the kids' heads warm this winter with 48 assorted beanies!
BEANIES FOR COLD WEATHER: Although hoods from sweaters and jackets will help to keep your head warm, a comfort stretch beanie will provide added warmth by trapping heat underneath while preventing the wintry air from entering. The thicker beanies helps to insulate and keep the head warmer for longer.
WARMTH FOR HEAD & EARS: Tired of numb ears from cold and icy temperatures? Pull your beanie down slightly to preserve body heat in order to keep your ears snug. The cuffed design allows you to extend the beanie further to cover more of your head.
CUFFED SKULL CAP: Designed for most activities in the winter. Playing outdoors, going to school, sports, and other outdoor activities. Pair this with a hoodie or winter jacket for a cozy feel and protection from the winter winds.
48 PACK WHOLESALE: One size fits most kids. A snug fit for both boys and girls with stretchy fibers for comfort. Comes in assorted colors for taking on the winter. Made with a soft and warm acrylic. Your purchase will include 48 beanies and is a great gift. Can be used for camping, field trips, ski trips, and more.
:
This item ships worldwide.
Please allow up to 7 days for items to ship from our facility.
Electronic appliances may require a converter to work in your country.