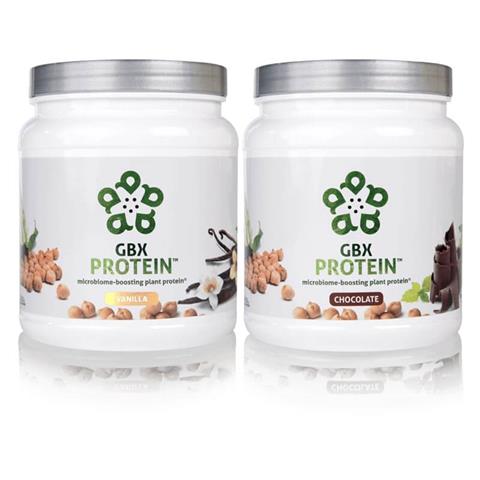 Amare GBX Protein™ (Chocolate)
Brand:

Amare

Manufacturer:

Amare

Details:

GBX Protein™ delivers 17 grams of pure plant protein. This unique chickpea, brown rice, and pea protein blend nourishes good bacteria in the gut and improves microbiome balance, while controlling appetite and supporting muscle mass. Fully-loaded with only functional ingredients, this potent formula supports the gut microbiome, helping fuel a healthy lifestyle.*
Amare Microbiome-Boosting Protein Blend
Artesa® Chickpea Protein:
Premium, sustainably sourced chickpeas
Unique microbiome-boosting phytonutrients*
Smooth flavor and taste
Brown Rice Protein:
Helps with weight loss and speeds up metabolism*
Improves liver function*
Supports heart health*
Pea Protein:
Helps maintain muscle mass*
Aids in weight loss*
Supports heart health*
GBX Protein delivers 17 grams of pure plant protein. This unique chickpea, brown rice and pea protein blend helps control appetite and maintain muscle mass, while nourishing good gut bacteria and improving microbiome balance.*
Our specialized blend is smooth (not gritty!) and flavorful, unlike some other protein blends on the market.
Non-GMO and Gluten Free*
Vegan / All Natural*
Sugar Free*
Soy and Dairy Free*
No Preservatives, Artificial Colors, Flavors and Sweeteners*
*These statements have not been evaluated by the food and drug administration. This product is not intended to diagnose, treat, cure or prevent any disease.
:
This item ships worldwide.
Please allow up to 7 days for items to ship from our facility.
Electronic appliances may require a converter to work in your country.