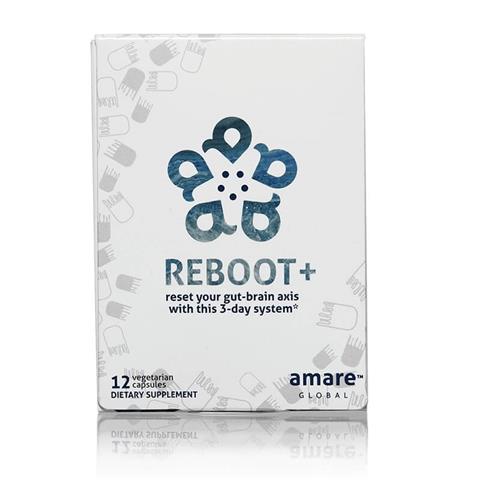 Amare Reboot+
Brand:

Amare

Manufacturer:

Amare

Details:

A synergistic blend of natural cleansing herbs and phytonutrients to assist the body's own detoxification process – specifically formulated to reboot your gut-brain axis in 3-days.*
Amare has created the first and only 3-day "scientific reboot" program called Reboot+. It is designed to reset your gut-brain axis and set a healthy, clean foundation for your microbiome. Unlike other programs, Reboot+ doesn't leave you feeling hungry when you follow the Dietary Suggestions: Reboot Boosters/Busters and Reboot+ Dietary Meal Program.*
Prevents liver damage 2-3x better than other popular detox supplements*
Resets/reboots gut microbiome balance*
Partners with and optimizes the body's natural detoxification process*
Clinically studied, Natural ingredients
Reboot+ is formulated with patented and plant-based ingredients to support the natural cleansing and filtering of your colon, kidneys, and liver. Begin by resetting your system with Reboot+ and follow up with the FundaMentals Pack for exceptional overall wellness.*
*These statements have not been evaluated by the food and drug administration. This product is not intended to diagnose, treat, cure or prevent any disease.
:
This item ships worldwide.
Please allow up to 7 days for items to ship from our facility.
Electronic appliances may require a converter to work in your country.