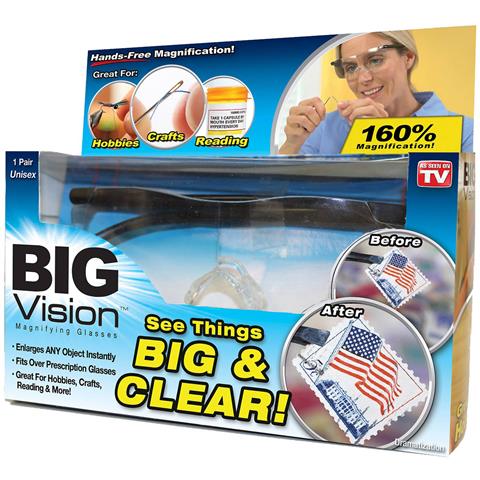 Big Vision Glasses - Unisex Magnifying Eyewear Big Vision 160% Brighter And Clearer As Seen On Tv
Thread needles, replace watch batteries and accomplish other tedious tasks with the magnifying convenience of Big Vision. As seen on TV, these handy eyeglasses makes everything brighter and clearer, with sturdy lenses that offer 160% magnification for a hands-free experience when accomplishing the most intricate projects. Inspecting small type or removing pesky splinters will seem effortless with these Big Vision glasses. The flexible, lightweight Big Vision glasses are wearable over prescription glasses, contacts or sunglasses and don't require an eye exam or prescription. Includes: Big Vision glasses Details: Eye wear enlarges objects by 160%, No eye exam or prescription needed. Hands free magnifying eye wear with NO distortion. Flexible, lightweight and Unisex frames.
This item ships worldwide.
Please allow up to 7 days for items to ship from our facility.
Electronic appliances may require a converter to work in your country.