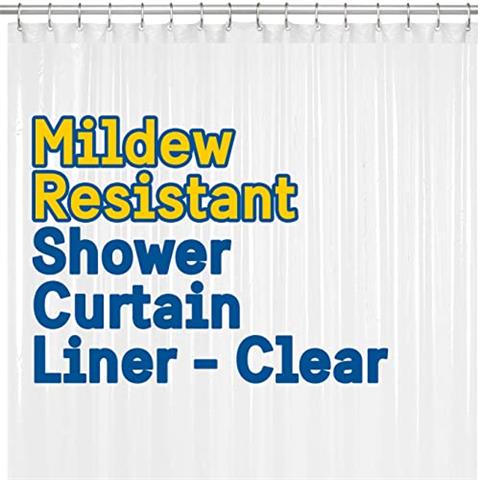 BigFoot Shower Curtain Liner – 72 x 72 PEVA Heavy Duty Shower Curtain with Rustproof Metal Grommet and 3 Magnetic Weights – Odor Free and Compatible with Standard Showers, Clear
Brand:

BigFoot

Details:

KEEP WATER CONTAINED and protect your pricey decorative shower curtain from dirt and discoloration. The BigFoot Shower Liner acts as a moisture barrier so floors stay dry and water remains inside the bathroom shower.
WATERPROOF polyethylene vinyl acetate is impermeable to liquids. Your shower water collects in droplets and runs down the BigFoot Shower Curtain Liner. Shampoo and soap residues never reach your cloth shower curtain.
DURABLY CONSTRUCTED with 12 rustproof heavy duty metal grommets, our shower curtain resists tears and punctures. Along the bottom edge 3 magnetic weights keep it inside of the shower and away from your body.
72" X 72" SIZE provides 6 feet of top-to-bottom and side-to-side coverage of your shower unit. Use it with a decorative bathroom shower curtain or all by itself as a clear shower curtain that lets in an abundance of light while you bathe.
ODORLESS, NON-TOXIC BigFoot Shower Curtain Liners contain no harmful PVC, chlorine or phthalates. Free of noxious smells and harsh chemicals, our shower liner belongs at the top of your bathroom accessories shopping list.
:
This item ships worldwide.
Please allow up to 7 days for items to ship from our facility.
Electronic appliances may require a converter to work in your country.