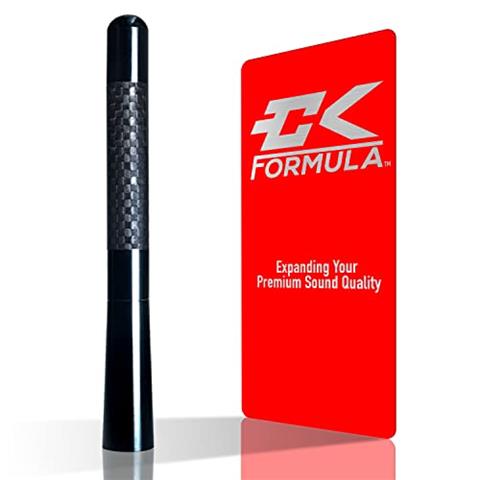 CK Formula 4.7" Black Truck Antenna - Carbon Fiber Screw Type Automotive Antenna Replacement, AM/FM Radio Compatibility, Aluminum and Internal Copper Coils, Car Wash Safe, Universal Fit, 1 Piece
Brand:

CK Formula

Details:

📻 STRONG AM/FM RADIO RECEPTION: With our internal copper coil being 1.7 times more conductive than aluminum and 3.6 times more conductive than steel, both your signal and reception are amplified to impress you with this amazing upgrade for your ride!
👍 ULTRA DURABLE: Consisting of durable carbon fiber material and strong 6061 aluminum grading, our truck antenna is built to be both weather resistant and waterproof. No need to worry about getting your car or truck washed as it is carwash proof as well!
🎖️ ANTI THEFT DESIGN: With our 304 stainless steel threading being more durable than brass, our antenna is geared to prevent anyone from stealing your antenna. Confidently secure your vehicle's stylish antenna!
✔️ UNIVERSAL FIT: We know you care about your ride. This is why we include a variety of 10 custom screw adapters in our packaging allowing for a perfect antenna fit for most vehicles. Ideal for any car and pickup truck owners.
⚙️ EASY INSTALL: First, unscrew the old antenna off. Next, choose the right screw adapter out of our package and screw it onto your vehicle's antenna base. Finally, finish up your install by screwing the new antenna onto the adapter by hand. No tools required!
:
This item ships worldwide.
Please allow up to 7 days for items to ship from our facility.
Electronic appliances may require a converter to work in your country.