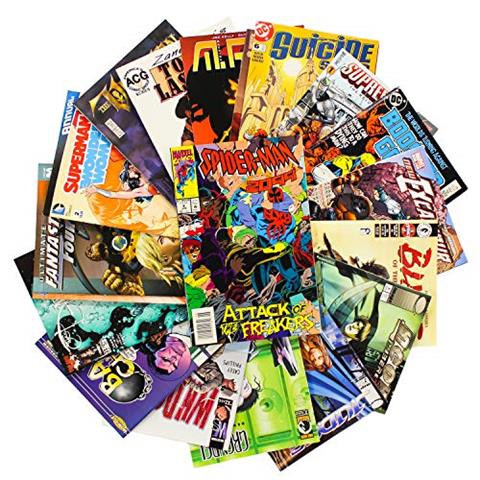 Comic Book Collection Gift Pack | Marvel, DC & Indy Comic Lot | Includes 25 Good Condition or Better Comics w/No Duplication Teens & Men | Great Birthday Party Grab Bag
Brand:

Cosmic Gaming Collections

Details:

HOURS OF FUN: This amazingly diverse set of comic books is perfect for any collector. The perfect comic book collection starter pack for ANY new collector. Excellent books for teens & new readers but should be reviewed for adult content & themes. Contains a variety of comic titles, w/ at LEAST five guaranteed Marvel or DC comics. Most titles are from independent publishers, like Dark Horse comics. Diverse & fun reading experience Perfect comic grab bag experience to explore new titles.
GREAT INDY COMICS: Perfect mixture of Indy comic titles to help you explore new lines. This diverse comic bundle is a perfect weekend pack for the seasoned comic reader or a way to find your passion as a new comic book enthusiast. Explore a wide range of titles from leading Indy publishers like Dark Horse comics among many others. Great way to pique your passion for new comics. Books are from the 80s to current to give you a truly diverse reading experience. REAL comic book grab bag experience.
GREAT MARVEL & DC COMICS: Comes with (5) GUARANTEED Marvel and/or DC comic books. A great addition or starter Marvel comic book collection & DC comic book collection. You could receive Spiderman comics & Batman comics or other great Marvel & DC titles like X-Men comics, Captain America, Incredible Hulk, The Avengers, The Flash, Suicide Squad as a few of the possible lines. This Marvel comic lot, DC Comic lot & Indy comic lot provide a perfect collection of Marvel books, DC books & Indy comics.
HAND SELECTED: Our team takes a meticulous approach in hand selecting a good mixture of books from a variety of titles, storylines and genres. Each book is reviewed for condition so that you only receive Good condition or better books. Comics can range from older vintage books to new comic books and will come from both the Marvel and DC Universe. This lot is perfect for someone wanting to experiment with a truly random set of comic books to learn about storylines they may love!
PERFECT GIFT: A fantastic gift for the special someone in your life. A true surprise mystery box for men, and a great random cool stuff gift idea. Will provide a great starter collection to a new teen comic reader and a breath of fresh air with lots of diversity for seasoned comic book reader. A true hand selected comic book box for anyone, but also a great random stuff for teens style gift. Be a superhero with the ultimate grab bag filler!
:
This item ships worldwide.
Please allow up to 7 days for items to ship from our facility.
Electronic appliances may require a converter to work in your country.