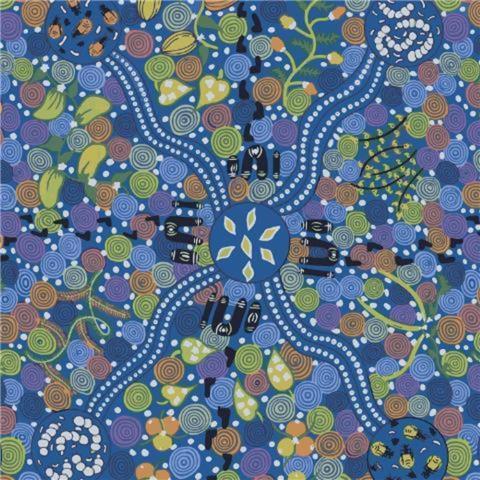 Corroboree Blue by Donna McNamara- Australian Aboriginal - Cotton Fabric by M & S Textiles
The Corroboree is a ceremonial gathering of Aboriginal people. There are some strict unwritten regulations which attendees have to follow. At corroboree, Aboriginals interact with Dreamtime ancestors through dance, music, costumes and body decorations. Outside guests are not permitted to attend these ceremonies without the elder's permission .Donne McNamarra's a very skilful and ardent designer. Her artwork is neat and vivid. It shows people are coming from various directions to attend corroboree. Bush foods such as witchetty grubs, honey ants, bush fruits etc. are available in the area. People are coming and sitting around the round corroboree area. Donna's artwork is brilliant, vibrant and simply wonderful.. Sold by the yard measuring 44 inches wide. 100% Cotton.
This item ships worldwide.
Please allow up to 7 days for items to ship from our facility.
Electronic appliances may require a converter to work in your country.