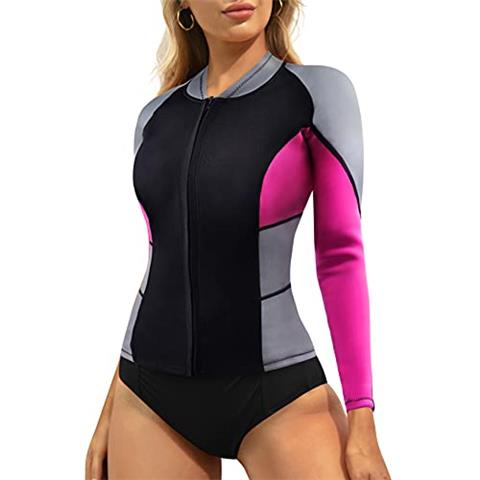 CtriLady Wetsuit Top Women Wetsuit Long Sleeve Jacket, Neoprene 1.5mm High-Necked Wetsuits with Front Zipper for Swimming Diving Surfing Boating Kayaking Snorkeling
Brand:

CtriLady

Details:

Zipper closure
【Softer & Higher Elastic 1.5mm Neoprene Composite Fabric】: This women wetsuit top is made of softer and higher elastic neoprene composite fabric, which make the wetsuit fit the body curve more. There is 3-layer composite fabric making the fabric waterproof, warmth, and elasticity. The composition is: inner layer: 70% styrene-butadiene ruber and 30% neoprene; outer layer: 100% Nylon.
【Long-sleeved & High-necked Zippered Design, New Style, More Fashionable】: The long-sleeved and high-necked zippered wetsuit top is designed for water sport to protect the skin from injury and sunburn. The tight and narrow cuff neckline is better to stick to the skin preventing the water from entering. It is easy to put on and take off thanks to the front and middle zipper design. What's more, there is a zipper sticker at the bottom preventing the skin from injury when the zipper is up and down.
【Suitable for Many Occasions】: This wetsuit top can be worn for swimming, snorkeling and other shallow water sports, but not for deep sea diving. Neoprene has the functions of waterproofing, keeping warm and coldproofing to delay the loss of body temperature. When you exercise in shallow water, you can enjoy water sports for a longer time. It can also protect the wetsuit users from sunburn and debris scratch. This long sleeve wetsuit top can also be used for saunas, fitness and sweating wear.
【Humanized Design, More in Line with Artificial Aesthetics】: The wetsuit top is designed for the human body shape, conforming to the human body curve. The dividing line and the contrast stitching are more fashionable. The fabric adpots to the ultra-soft, stretchable, high-quality neoprene. The upper and lower layers are fitted with high-performance and high-elasticity fabric, which fits the body better. Popular color stitching breaks a single pattern and enriches the overall shape.
【Wash Care】:Handwash in cold water with mild detergent and hand try, no iron, no bleach.
:
This item ships worldwide.
Please allow up to 7 days for items to ship from our facility.
Electronic appliances may require a converter to work in your country.