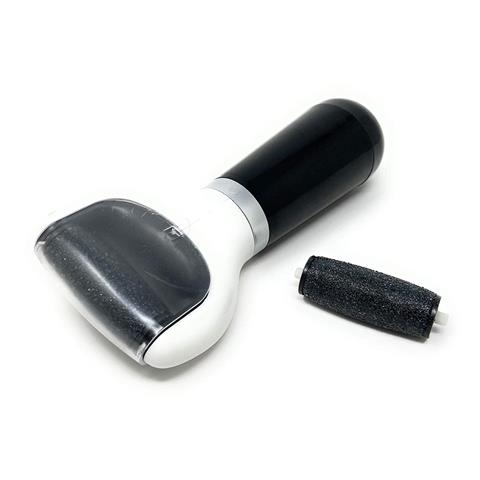 Foot File Electric Callus Remover for Feet Scrubber Rechargeable Dry Pedicure Tools - Cordless
FORGET EMBARRASSING MOMENTS - Have you been forced to hide your feet in closed-end shoes? Are there moments you are embarrassed by your callused feet? Maybe, this electric callus remover for feet is the tie to regain your lost confidence and respect among your friends. This foot sander, callus remover for feet will leave your feet smoother and healthier. In the end, not just your skin will feel soft and smooth, but your confidence will be boosted too. Size is 2.95" Wx 6.93" L x 1.6" D. PEDICURE KIT AT HOME - Why pay extra to have your feet scrubbed at a salon, when for about the same cost of a single salon pedicure, you can buy your very own electric foot callus remover? You can use this foot grinder, before or after shower. Move the foot file electric, foot scraper for dead skin over dead skin, applying light to medium pressure, until the ddry ead skin is removed. Ergonomic designed for better grip and comfort when electronic foot file is in use. One refill head INCLUDED. FAST WAY TO GET SOFT FEET! Move the electric foot file callus remover back and forth, up and down your foot and over and over and you will see the really thick dry areas flying and coming off easy and painlessly without much effort. After you've finished buffering your feet, you should also use moisturising cream to help you manage the dryness better over the long term. You won't be bothered with any dry skin nuisance for a period of time. Requires 4 AA batteries(not included) HAVE THE LUXURY OF SILKY SMOOOTH FEET with this foot scrubber, callus remover for feet electric that gently buffs away dry and calloused skin. Stop suffering from cracked dry feet and that can be annoying. Applying moisturising cream is just not enough because that only temporarily softens the hard skin but it doesn't remove it.
This item ships worldwide.
Please allow up to 7 days for items to ship from our facility.
Electronic appliances may require a converter to work in your country.