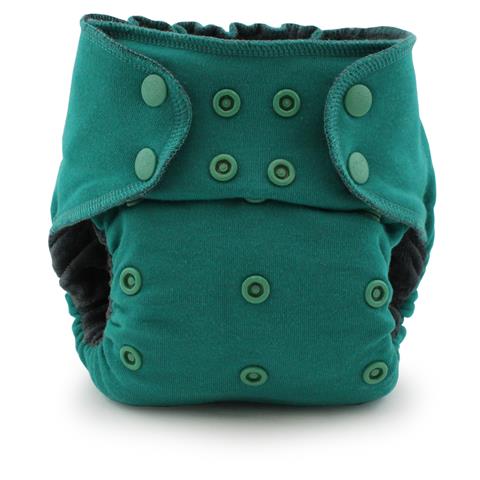 Kanga Care Ecoposh OBV One Size Adjustable Pocket Fitted Cloth Diaper
Brand:

Kanga Care

Details:

Ecoposh OBV Pocket Fitted Cloth Diaper grows with your child for an easy one time purchase.
Designed with a plush organic bamboo velour (OBV) inner layer along with bamboo 6r Soaker set providing max absorbency for your child
Environmentally conscious product partially made from recycled water bottles, minimizing waste.
Adjusts to 4 different sizes fitting little ones from birth to potty training 6 - 35 lbs.
Popular overnight solution with maximum absorbency which allows for accidents without a big upset
:
The Ecoposh OBV (Organic Bamboo Velour) One Size Fitted Cloth Diaper is designed to incorporate four sizes in one diaper. The Ecoposh OBV One Size will accommodate little ones ranging from 6-35 pounds (birth to potty training). The Ecoposh OBV One Size is a fitted pocket diaper system that includes a set of absorbent Bamboo 6r Soaker pads. The soaker set is customizable for six absorbency settings allowing adjustable absorbency. The 6r Soaker inserts slide into the inside of the Ecoposh OBV One Size through the pocket opening. The Ecoposh OBV One Size is made out of organic cotton, bamboo velour (viscose of bamboo rayon) and recycled water bottles. The Ecoposh OBV One Size is a fitted diaper, which is not waterproof. This diaper requires the use of a diaper cover, such as the Ecoposh Wool Diaper Cover (sold separately). This diaper is the perfect solution for nighttime use or heavy wetters! Ecoposh OBV One Size, complete with the Bamboo 6r Soaker, is an absorbent 10 layers thick. Kanga Care brand cloth diapers are the only cloth diapers uniquely designed with the patented leak protection technology of dual inner gussets. PREP: Prior to first use; wash Ecoposh OBV One Size twice through a full wash cycle in hot water (no detergent) with a cold rinse, tumble dry medium. This will shrink diaper and pad to appropriate size and "sponge" up fabric for maximum absorbency. Fullest absorbency will be reached after five washes. The diaper may begin to be used after two washes. TO USE: Snap diaper rise to proper size setting. Select the proper 6r soaker for size of diaper and insert through pocket opening, placing soaker inside the diaper. Fasten diaper to baby. This diaper needs a cover. Use with the Ecoposh Wool Cover or the Rumparooz One Size Diaper Cover. WASH & CARE: 1. Cold rinse, no detergent. 2. Hot Wash/Cold Rinse with the suggested amount of detergent. See www.kangacare.com for full list of recommended detergents. Tumble dry medium. Inserts may be dried on high heat.
This item ships worldwide.
Please allow up to 7 days for items to ship from our facility.
Electronic appliances may require a converter to work in your country.