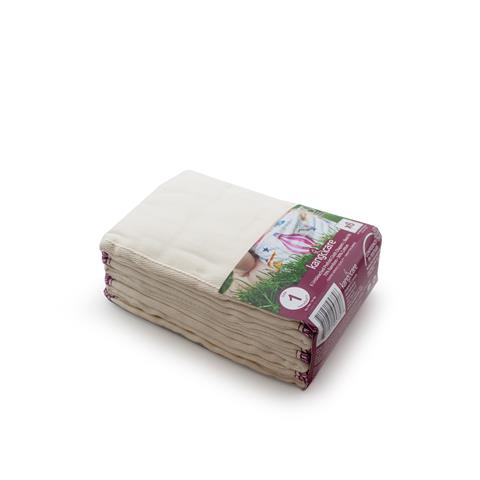 Kanga Care Reusable Prefold Cloth Diaper
Brand:

Kanga Care

Details:

Premium Materials: Our luxurious prefold diapers are above average quality. They are made from natural fibers of 70% viscose of Bamboo and 30% Cotton, this blend is what makes them so soft with superior absorbency. Our prefolds also meet Diaper Service Quality standards.
Eco Conscious: Kanga Care strives to be as eco-conscious with all products. These prefolds are unbleached to reduce carbon footprint. Our materials are not exposed to unnecessary chemicals and exceed the requirements of the CPSA and CPSIA rules for cloth diapering.
Budget Friendly: Kanga Care Prefold diapers are very budget friendly as you only need 18-24 prefolds to cloth diaper full-time. Prefolds require a waterproof exterior to contain leaks and messes. Pair your Kanga Care Prefolds with inexpensive Kanga Care Rumparooz covers. Covers can be reused more than once before washing by simply wiping the interior of the cover when changing a wet diaper.
Sizing and Use: Kanga Care Prefolds come in 4 different sizes, growing with your child for a customized fit. SIZE 1: Newborns at 4-10 lbs. SIZE 2: Infants 7-17 lbs. SIZE 3: Baby 12-25 lbs. SIZE 4: Toddlers 15-30 lbs. Kanga Care prefold diapers will require at least 6 hot washes and drying before use to be "Prepped" and ready to use.
Dimensions - Size 1 :: 12.5"W x 13.6"L (unprepped) and 10.5"W x 11"L (prepped) Size 2 :: 14"W x 16.5"L (unprepped) and 13.25"W x 14"L (prepped) Size 3 :: 15.5"W x 19.5"L (unprepped) and 14"W x 16.5"L (prepped) Size 4 :: 17"W x 21"L (unprepped) and 15.5"W x 17"L (prepped)
:
The Kanga Care Prefold Diaper is a thirsty 4x8x4 thickness of layers in an organic cotton and viscose of bamboo blend fabric that comes in four different sizes to meet the individual needs of the different sizes of infants and toddlers. They are serged with brightly colored thread that designates the 4 different sizes. Our prefolds are made to work with our one size and newborn Rumparooz Diaper Covers.
This item ships worldwide.
Please allow up to 7 days for items to ship from our facility.
Electronic appliances may require a converter to work in your country.