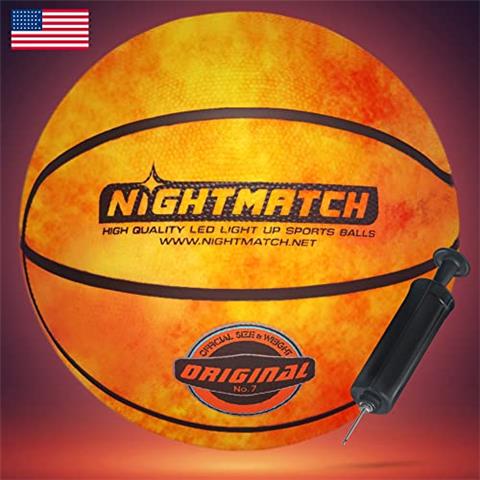 Light Up LED Basketball - Official Size 7 - Extra Pump and Batteries - Perfect Glow in The Dark Basketball with Spare Batteries - Waterproof Glow Basketball with Two High Bright LEDs
Brand:

NIGHTMATCH

Details:

✅ 𝗧𝗛𝗘 𝗨𝗟𝗧𝗜𝗠𝗔𝗧𝗘 𝗙𝗨𝗡 𝗜𝗡 𝗧𝗛𝗘 𝗗𝗔𝗥𝗞 - Enjoy the precious moments of a round of basketball with family and friends. This glow basketball guarantees a lot of fun, joy and funny moments in the dark.
✅ 𝗛𝗜𝗚𝗛𝗘𝗦𝗧 𝗩𝗜𝗦𝗜𝗕𝗜𝗟𝗜𝗧𝗬 𝗧𝗛𝗥𝗢𝗨𝗚𝗛 𝗟𝗘𝗗𝘀 - Two impact activated LEDs are built into our NIGHTMATCH led basketball. They ensure maximum visibility in the dark and are still clearly visible from a long distance.
✅ 𝗘𝗫𝗧𝗥𝗔 𝗔𝗖𝗖𝗘𝗦𝗦𝗢𝗥𝗜𝗘𝗦 𝗙𝗢𝗥 𝗜𝗠𝗠𝗘𝗗𝗜𝗔𝗧𝗘 𝗙𝗨𝗡 - Get started right away with the included accessories. Just unpack the NIGHTMATCH basketball, inflate and play. You will also receive a ball pump, spare batteries and an extra pack of batteries.
✅ 𝗦𝗧𝗔𝗕𝗟𝗘, 𝗗𝗨𝗥𝗔𝗕𝗟𝗘 𝗔𝗡𝗗 𝗪𝗔𝗧𝗘𝗥 𝗥𝗘𝗦𝗜𝗦𝗧𝗔𝗡𝗧 - Excellent quality is what characterizes NIGHTMATCH products. Our basketball isn't only manufactured according to the highest quality standards, but it's also waterproof.
✅ 𝗧𝗛𝗘 𝗦𝗔𝗠𝗘 𝗦𝗜𝗭𝗘 𝗨𝗦𝗘𝗗 𝗕𝗬 𝗔𝗧𝗛𝗟𝗘𝗧𝗘𝗦 - For a real basketball feeling, our light up basketball has the official size 7, which is the most common and most used size for basketballs! Perfect for adults & students.
:
This item ships worldwide.
Please allow up to 7 days for items to ship from our facility.
Electronic appliances may require a converter to work in your country.