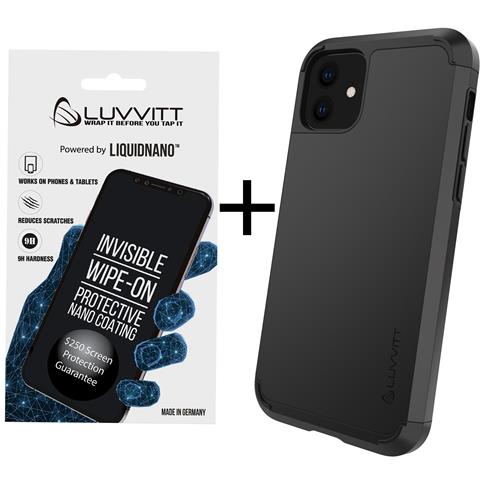 Luvvitt $250 Warranty ULTRA ARMOR Case + Liquid Glass Screen Protector Bundle for iPhone 11 2019
Luvvitt ULTRA ARMOR Case and Liquid Glass Screen Protector Set offers all-around 360 protection for your iPhone. Luvvitt Liquid Glass is a cutting-edge super durable, completely transparent liquid screen glass protector that bonds to the glass of your device offering greatly enhanced scratch, moisture, and impact resistance. It's made of silica dioxide (Si02) which is essentially microscopic particles of glass suspended in a liquid solution. Completely harmless and invisible once applied with easy wipe-on DIY application, Liquid Glass fills in the imperfections of the screen and adds an additional layer of glass. It's extremely scratch & shatter resistant and it Increases the glass' strength to 9h hardness (Attention: It is important to note that there is no product that is going to make a phone screen completely shatter proof or scratch-proof). Coupled with Luvvitt's ULTRA ARMOR case, you are guaranteed to have the ultimate screen protection for your phone. Dual layer Luvvitt Ultra Armor case for iPhone 11 provides a heavy duty protection without the bulk. TPU shock absorbing core is supported by a hard outer shell. Includes removable metal plate for magnetic car holder (car cradle not included). Air pockets strategically engineered and placed inside the corners provide an extra cushion to combat drops. Luvvitt's bundle features Screen Replacement Guarantee up to $250 is provided in cooperation by a leading insurance company. If your device is damaged while protected by Liquid Glass, your one year limited replacement guarantee provides $250 insurance coverage towards the repair of your devices screen. You can simply get it repaired anywhere you like and submit the invoice electronically for reimbursement. Warranty valid only in US. YOU MUST REGISTER YOUR DEVICE IN 30 DAYS FROM PURCHASE in order for the warranty to be valid. NO exceptions can be made as it's provided through an insurance company.
This item ships worldwide.
Please allow up to 7 days for items to ship from our facility.
Electronic appliances may require a converter to work in your country.