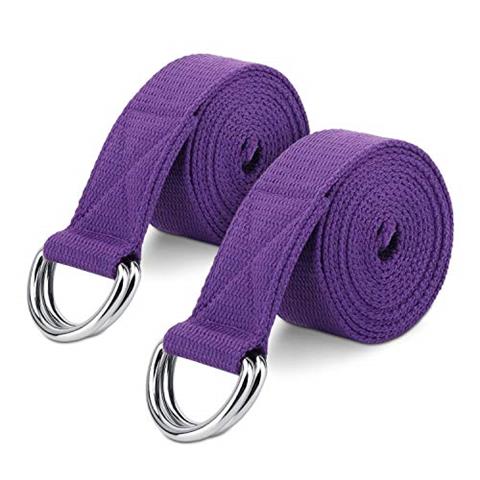 MoKo Yoga Strap Belt [2 Pack], Stretching Exercise Fitness Bands 6ft, Made with Durable Cotton Soft with Metal D-Ring Buckle, Best for Holding Poses, Physical Therapy, Pilates, Increase Flexibility
Brand:

MoKo

Details:

CLEAVER YOGA COMPANION: Have trouble holding a yoga pose or truggling to twist? Our MoKo Yoga Strap helps you reach further and stretch deeper without muscle strain. Perfect for your Yoga Starter Sets.
MULTI PURPOSE: Apart from the yogic purpose, this strap will also help increase your flexibility in many fitness, exercise & physical therapy, stretching, balance, pilates, ballet, workout & more.
SOFT & FLEXIBLE: Other than stiff straps from other brand, our MoKo Yoga Strap made with the best durable cotton that not only easy to grasp, yet still soft and comfortable enough in your hands.
SIMPLE yet STURDY: Whether you are beginner or advanced, this strap is ideal for most users. It is simple but sturdy enough to withstand heavy stretching and repeated yoga classes and flexibility training.
D-RING DESIGN: The metal D-ring buckle holds the strap securely and won't slip around that you can stretch safely without constantly frustrated of having to readjust. Great for stretching purposes and muscle rehabilitation.
:
This item ships worldwide.
Please allow up to 7 days for items to ship from our facility.
Electronic appliances may require a converter to work in your country.