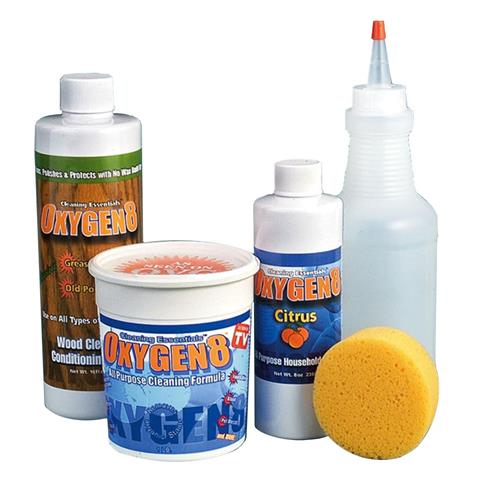 Oxygen8 Wood Grease Water Stain Remover For Clothes Fabric All Purpose Home Cleaning Solution Kit
Wipe away grease and grime with this multi purpose household cleaner Makes over 24 galons. This cleaning kit contains 1 lb of All Purpose Cleaning Formula with Scoop which dissolves organic stains from all water washable surfaces, fabrics, upholstery, and carpets. Removes odors and deodorizes while it cleans. 16 oz Wood cleaner and Conditioner which can be used on most wood surfaces. Removes dirt and grime, while leaving a lustrous shine. Just apply a small amount of the wood cream on the applicator sponge, and polish. Great for tables chairs, paneling, cabinets, railings, picture frames and more. 8 oz Concentrated All Purpose Cleaner Concentrated Citrus Power instantly removes tar, lipstick, nail polish, marker, paints, shoe polish, makeup, gum, pen ink, garage stains, and much more. When used at full strength is one of the most effective degreasers and super-strong laundry prewashes. Diluted with water, Oxygen8 makes up to ten gallons of refreshing all purpose cleaning solution 16 oz Squirt Bottle 1 Sponge Applicator Each Oxygen8 tub contains hundreds of applications. Cleans and deodorizes the most stubborn stains and odors in any water washable fabric or surface Watch stains instantly disappear without dangerous chemicals or fumes Use all around your home ----- Inside or Outside Economical & Versatile As Seen on TV Applications & Uses: Wine · Juice · Soda · Pet Messes · Dirt · Food Stains · Grass Stains · Clothes · Carpets · Upholstery · Grout · and more! How Oxygen 8 Works: Millions of tiny Oxygen bubbles attack the stain, which cause the chemical composition to change. This process is called oxidation. The Oxygen 8 solution mixed with warm water will activate this powerful solution. Oxygen 8 will weaken and evaporate the stain allowing for quick, easy, clean up.
This item ships worldwide.
Please allow up to 7 days for items to ship from our facility.
Electronic appliances may require a converter to work in your country.