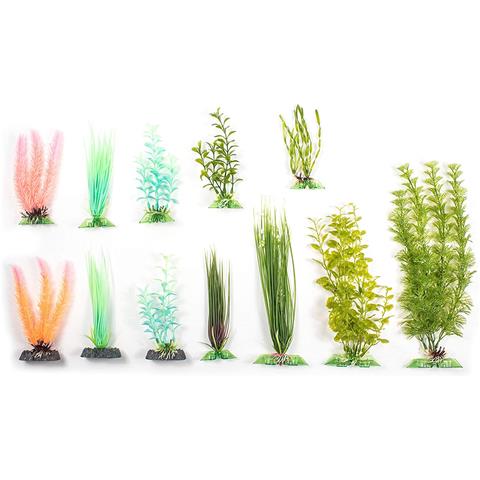 Penn-Plax Twelve Piece Aquarium Plant Gift Set for a 10 Gallon Fish Tank
People always ask - How many plants do I need for a 10 Gallon tank? Is it 4? How about 6 big ones and 3 small ones? Can anyone help? Well Penn-Plax has taken the guesswork out the equation for you! Introducing the 12 Piece Aquarium Plant Gift Set from Penn-Plax. This set includes different sizes and styles of aquarium plants which are sure to make your tank come alive! Check out our picture of a standard 10 Gallon tank to see one possible layout. The only limits are your imagination. * All Penn-Plax Aquarium Plants are marine and freshwater safe, and are easy to clean. * Create a lush underwater landscape in seconds with this exclusive bundle of durable plastic plants. * Each plant is fitted with a secure scoop base, keeping it upright and steady in your tank's gravel. (Gravel not included). * This bundle features a variety of plant types and sizes. Group plants together by size or by type, or completely randomized. The possible combinations are endless! * BONUS! This bundle includes exclusive glow-in-the-dark plants for a beautiful scene day or night.
This item ships worldwide.
Please allow up to 7 days for items to ship from our facility.
Electronic appliances may require a converter to work in your country.