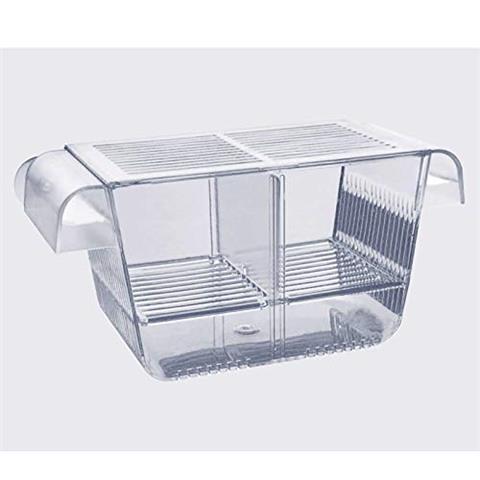 Qguai Fish Breeding Box, Perfect Fish Tank Divider Acclimation Box for Aggressive Fishes, Nursery for Injured, Hatchery Incubator Breeder Box for Shrimp cicilids Eggs Baby Fishes
Brand:

Qguai

Details:

Safe & Secure: This fish breeding box is a multi-functional tank for breeding, hatching, isolating and acclimating all kinds of fishes, such as bettas, guppies, medaka, ect..Also, with some plants in, it satisfies the need for new arrivals to instinctively find privacy.
Unique Design: Self-floating design with suction cups, 2-layer and isolation rooms in your fish tank saves more space for other fishes. Appropriate side vents allow for optimum water flow, and small fishes can not run out.
High Quality: Made of High quality cell cast crystal acrylic, Exquisite workmanship, Inner Size for fish to swim : 6.1" x 3.5" x 3.7" ( L x W x H ).
Separate and acclimate aggressive fishes, protect injured fishes, baby fishes, shrimp, clownfish, and other marine fishes, improve the survival rate of the baby fishes .
Easy to use: 3 mins assembly / disassemble for cleaning. Removable divider customize size and number of chambers for different use.
:
This item ships worldwide.
Please allow up to 7 days for items to ship from our facility.
Electronic appliances may require a converter to work in your country.