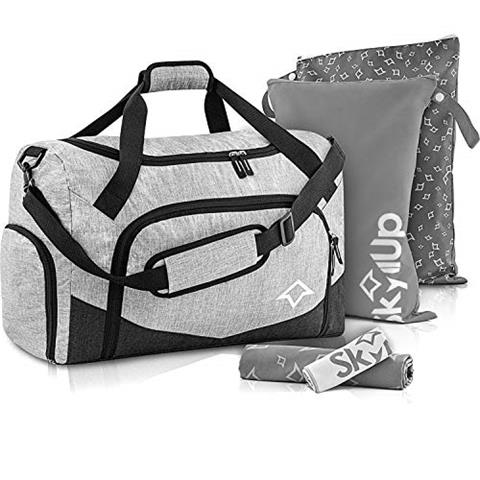 Skyllup 5-in-1 Gym Bag with Shoe Compartment Bundle + 2x Wet Bags + 2x Microfiber Towels, 50L Gray Duffle Bag for Fitness, Sports, Workout and Travel, Waterproof Weekender Bag for Men and Women
Brand:

Skyllup

Details:

❰ 𝗗𝗨𝗙𝗙𝗟𝗘 𝗕𝗔𝗚 ❱ ● The elegant design and color of this sports bag gives you the opportunity to bring it both to work before or after your favorite gym / class. ● Unisex duffle bag with divider and 6 inner pockets keep your clothes, food, and personal belongings organized.
❰ 𝗙𝗘𝗔𝗧𝗨𝗥𝗘𝗦 ❱ ● One firm adjustable divider helps keep your clothes separate and out of contact with other belongings. ● Water & odor proof shoe compartment on the side keeps shoes away from fresh food and clothes inside the bag.
❰ 𝗨𝗦𝗔𝗚𝗘 ❱ ● You can use this bag for all kinds of sports and necessary equipment. From kickboxing, swimming, baseball, tennis, gym and more. ● This bag offers great usage as a weekender bag, travel bag, overnight bag, carry-on luggage and just-in-case bag.
❰ 𝗪𝗘𝗧 𝗕𝗔𝗚𝗦 ❱ ● Two wet bags give you the opportunity to separate sweaty or wet sports clothes and swimsuits, from your dry clothes or meal inside, right after any activity. ● Wet bags are washable and can be used as a dirty laundry compartment or hold wet towels.
❰ 𝗠𝗜𝗖𝗥𝗢𝗙𝗜𝗕𝗘𝗥 𝗧𝗢𝗪𝗘𝗟𝗦 ❱ ● Two towels made of Ultra Soft Compact Quick Dry Microfiber are a necessity after any activity. ● Both towels have loops on their corners to easily hang anywhere as needed.
:
This item ships worldwide.
Please allow up to 7 days for items to ship from our facility.
Electronic appliances may require a converter to work in your country.