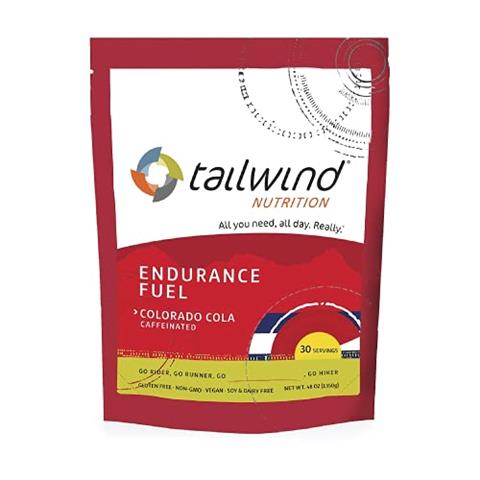 Tailwind Nutrition Endurance Fuel, Caffeine Drink Mix with Electrolytes, Non-GMO, Free of Soy, Dairy, and Gluten, Vegan Friendly, Colorado Cola, 30 Servings
Brand:

Tailwind

Details:

EXERCISE DRINK: Our Endurance Fuel is designed with athletes in mind. Whether you are planning on running, lifting weights, cross-training at the gym, backpacking for miles, or having a yoga session, our sports drink mix is made for you. Toss it in a bottle, mix with water, and you're good to go!
COMPLETE ENDURANCE DRINK: You can ditch your wide assortment of chews, pills, and gels because our sports drink is a complete source of calories, electrolytes, and hydration. Restore your energy, and keep moving with our mix that does it all. All you need. Really.
TASTY FLAVORS: Our delicious exercise drink comes in 4 non-caffeinated flavors: Mandarin Orange, Berry, Lemon, and neutral-tasting Naked, as well as 4 caffeinated flavors: Raspberry Buzz, Green Tea Buzz, Tropical Buzz, and Colorado Cola. Each flavor is crisp, light, and easy to drink. You'll love the mild taste that isn't overly sweet.
NO GUT BOMBS: You may have experienced stomach irritation from other performance drinks due to artificial or suboptimal ingredients. Our formula is made of clean ingredients that your gut is made to absorb, helping to prevent gut bombs. Keep moving without upsetting your stomach or taste buds.
CLEAN INGREDIENTS: We created a formula that is compatible with a variety of diets. Our endurance drink mix is non-GMO, vegan, and free of gluten, soy, and dairy. It doesn't have an aftertaste, nor does it leave residue in your bottle. It dissolves clear with water and cleans up after a quick rinse!
:
This item ships worldwide.
Please allow up to 7 days for items to ship from our facility.
Electronic appliances may require a converter to work in your country.