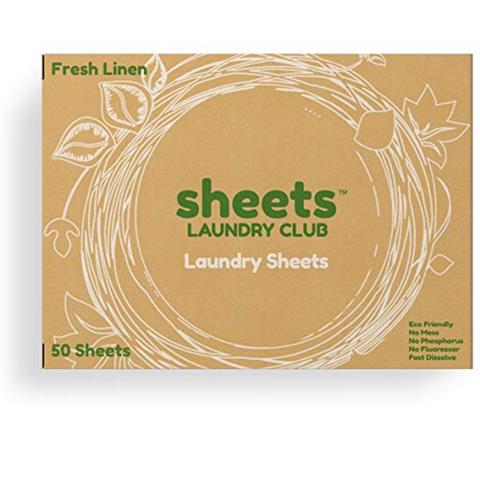 Up to 100 Loads of Liquidless Laundry Detergent Sheets Plastic Free Fresh Linen Scent Eco-Friendly Hypoallergenic Safe For Sensitive Skin Earth Friendly 50 Sheets, Use 1/2 Sheets for XS Loads A Breeze
Brand:

SHEETS LAUNDRY CLUB

Details:

YOUR CLOTHES WILL LOVE SHEETS - We made this liquid free detergent sheet to soften and reduce wrinkles and eliminate odors, stains, and dirt. Our high efficiency laundry detergent Sheet is ideal for everyday laundry cleaning, including cottons, linens, blends, and durable synthetics. It's also safe for whites and all colors, and you can use it in hot, cold, hard, or soft water. Great for the earth.
LONG LASTING DETERGENT SHEET THAT'S SAFE FOR YOU - Our powerful concentrated laundry detergent Sheet is formulated to last 3 years and is also made without harsh ingredients, making it safe for you and your clothes. Our laundry sheet is Eco-Friendly, Plastic Free with Recyclable Packaging, we are please to say it's Septic Safe and is HE compatible. A Tru Clean
SHEETS EASY TO USE 1 Sheet and Go Application gives you the right amount-every time. Just drop 1 Sheets from our recyclable box into the washer and you're done. Made with 0% dyes, or artificial brighteners.
DISSOLVES COMPLETELY in hot or cold water, Powerful Cleaning. Eco-Responsible Packaging, Biodegradable, Dye Free, Natural, Septic Safe, Vegan
PERFECT FOR SENSITIVE SKIN - Our revolutionary formula of laundry detergent Sheet is made without ingredients that are the leading causes of skin irritation, making our detergent Sheet perfect for kids and adults with sensitive skin and who don't want to sacrifice fresh smelling clothes. EASY FOR KIDS TO USE
UP TO 100 LOADS, For those who do extra Small to Small Loads you can use 1/2 a Sheet for a full clean.
:
This item ships worldwide.
Please allow up to 7 days for items to ship from our facility.
Electronic appliances may require a converter to work in your country.